Are you searching for alternative shopping sites to eBay? Or you wish explore another site like eBay that are available for private seller?. If the answer is YES, then I can boldly tell you that you are already on the right page to get full answers to your quests. 

  Nowadays, there is increase in number of internet users who have opted to conduct their goods purchases and sales entirely online. This paves the way for various websites, such as eBay, to provide a variety of services to online buyers and sellers alike.
    Without a question, eBay remains one of the most popular and well-known online purchasing destinations, making online shopping more convenient for many internet users across the world.
What is eBay?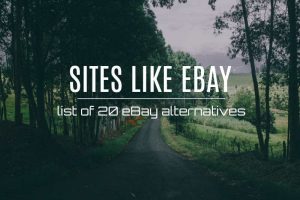 eBay is simply an online platform purposely designed for buying and selling of different varieties of products online. You can purchase and sell any of your goods and services on eBay, which is a worldwide online shopping network that allows you to buy and sell virtually anything.
     You can buy and sell any of your goods and services on eBay, which is a worldwide online shopping network that allows you to buy and sell virtually anything. , eBay provides the best services when it comes to buying and selling products on the internet. As a result, the site has become well-known throughout the internet as the ideal platform for online shopping and browsing.
   With nothing less than 190 million active users, eBay is the second-largest online market platform in the world after Amazon, according to global rankings.
Best Online Shopping Sites Like eBay
    Because of the numerous flaws that have been discovered on the eBay shopping website, many of their consumers are now looking for alternative purchasing websites.  It is crucial to know that there are other other websites other than eBay, that provide a service that is similar to the eBay online shopping website.
     For the purpose of this short article, we've listed the 20 finest eBay alternatives for buying and selling online in 2022, as determined by our research. However,  the online shopping platforms included in this list were chosen based on user recommendations, distinctiveness, and the high level of service they provide to their customers.
In 2022, the following are 20 best eBay alternatives to sell your items online
   Amazon is the first online shopping website to consider as a viable alternative to eBay. Amazon is often recognized as one of the most significant competitors of eBay's retail websites in terms of sales volume. The network is well-known for its e-commerce feature, which allows users to sell products on the platform.
Amazon has a fairly straightforward interface that makes selling things much simpler than on eBay. All you have to do is sign up as a vendor for free and begin your experience on the platform from there.
     You may also evaluate the number it will cost to list and sell your goods on Amazon using the website's fee calculator, which can be found there. If you wish to sell your products on Amazon, you can choose between two distinct programs: 1. Seller Central and Amazon's Fulfillment by Amazon are two of the most popular ways to sell on Amazon (FBA)
  Please keep in mind that the Pro Plans have a monthly fee of $29.99 a month, which must be paid in advance. The price of the FBA, on the other hand, varies from one seller to another, and is determined by the value of the items or products you are selling on the platform.
Etsy (another site like ebay)
This is yet another excellent online purchasing platform comparable to eBay. In addition , Etsy is well known for selling clothing,  crafts, artwork, vintage items, and a variety of other products.
  In contrast to mass-produced commodities, the Etsy retail platform places a strong emphasis on distinct niche products. Consequently, it is possible for purchasers to seek for and purchase an original product of their choosing. On Etsy, you can simply link your website (as a seller)  then select the type of payment that you desire to accept from your customers.
  Another unique aspect of this online shopping platform as an eBay alternative is that it costs only a 20-cent listing fee for each item listed. You can earn a 5 percent bonus on each sale you make on Etsy if you are a registered seller.
Ruby Lane

(

another site like ebay)
  This shopping website has been in operation for more than 20 years.. People have been utilizing it to purchase art products, antiques, vintage items, and other such items since it first appeared on the internet.
   Ruby Lane is considered to be one of the oldest online shopping websites, which is why it continues to be a viable eBay alternative for both buying and selling. Ruby Lane supports more than 3000 sellers from all around the world through its website.
eBid

(

another site like ebay)
  eBid has the same quality to it as eBay. This platform (eBid) is a superb website similar to eBay because the two websites have a lot of the same characteristics.
    eBid is a particular auction site, similar to eBay, that is why it is widely considered as one of the most reliable online shopping destinations in the United Kingdom. It is feasible for you to build your own store on the eBid platform and begin adding your items. On top of all of that, you can also purchase various things from other users who are registered on the platform.
AliExpress

(

another site like ebay)
If you are looking forward to purchasing and selling things online, AliExpress is a great alternative website to eBay you can use..
On AliExpress, you can purchase things at wholesale prices for a fraction of the price of retail. This shopping website provides you with a wide range of things, including jewelry, electronics, clothing, toys, and much more.
OfferUp 

(

a site like ebay)
Also, this platform is among the most effective alternatives to shopping websites like eBay. It is primarily used for the sale of products locally or for the shipment of items.
  OfferUp's app features allow you the ability to upload images of things you want to sell, publish your location, and communicate with potential buyers.
   The fact that the OfferUp website promotes listings without charging a cent is one of the factors that attracts many users. Additionally, you can increase the sales of your stuff by posting them on any social networking platform.
Rakuten

(

a site like ebay)
    This is yet another well-known and excellent alternative to eBay. Product categories include fashion, gadgets and technology, beauty, home and kitchen, and so on. Rakuten offers products from a variety of different facet.
   Rakuten rewards you with cash back if you continue to buy on their website after your first purchase.This genuinely varies based on the goods. However some do receive no less than a 20 percent cash back on their purchases, and others even receive more.
       8. Bonanza (a site like ebay)
     Bonanza is another popular shopping platform. It is known throughout the world as a leading online shopping platform that simplifies the process of purchase and sale of goods online.   As eBay alternative, there are almost 20 million items available for purchase on Bonanza. Books, ebooks, clothing/apparel, technology, and a plethora of other items fall into this category.
Newegg

(

a site like ebay)
   This is yet another popular site that operates in the same way as eBay  regarding product buying and selling transactions. Newegg offers a wide variety of products in different areas. Home appliances, electronics, laptops, computers, gadgets, and a variety of other items fall under this category.
    Newegg is a shopping website that is similar to eBay, but with a few key differences. You have the option of selling your things at a fixed price or through an auction on this platform.
When an item is successfully sold out, Newegg charges a commission fee that ranges from 1 percent to 4 percent of the total purchase price.
eCrater

(

a site like ebay)
    eCrater is a fantastic eBay substitute site that you should check out. This platform provides you with the ability to develop and operate your own store on their platform completely free of charge. The service is thus recommended for people who wish to establish an online marketplace but wish to avoid the costs of domain names, e-commerce software, and other associated services.
    The listing fee on eCrater is completely free, but they do charge a commission of 2.9 percent of any purchases you generate through the platform. It is the most remarkable feature of eCrater because it allows you to import various items from other online buying websites, such as Amazon, eBay, and other similar ones.
Best Alternative to eBay for Private Sellers
Here is another section of the article. In this section, you will have access to some online shopping website which are alternative to eBay and they are available for Private Sellers
Mercari 

(

a site like ebay)
      This is another website similar to eBay where you may purchase and sell a variety of different items. Mercari is an online shopping site that allows you to purchase a variety of items such as electronics, books, pets, clothing, furniture, and many more. Note that Mercari is one of the alternative to eBay for Private Sellers
    Some of the functionality of this platform are comparable to those of eBay. In order to sell your desired products at set prices on the Mercari website, you must first create a seller or buyer profile for yourself on the website.
The listing fee is completely free, but they charge a commission of 10% on any products that are sold through the platform.
Poshmark

(

a site like ebay)
   Poshmark is another online shopping platform that caters specifically to the needs of those interested in gadgets and fashion items. This website is also alternative to eBay for Private Sellers
Poshmark, like eBay, is a very popular online shopping site. It has a total of 66 million items available for purchase in the marketplace. The most intriguing aspect of Poshmark is that they handle all aspects of product shipment on the buyer's behalf.
Facebook Marketplace

(auction site like ebay)
Facebook Marketplace is a function that was recently introduced to the social media platform.
This platform enables users to sell their products in their immediate vicinity, rather than across the country. Facebook Marketplace is accessible through the Facebook app on a mobile phone, it is extremely simple and convenient to navigate through.
On a similar note, Facebook Marketplace is completely free for both buyers and sellers to use and participate in.
Alibaba

(auction site like ebay)
   If you are the type who is looking for the greatest website similar to eBay, then I would suggest that you visit Alibaba today. 
   If we do not include Alibaba in our list, our choices will be incomplete. Alibaba is one of the most popular online shopping websites, which is why it is sometimes referred to as an eBay alternative.
   When compared to other online shopping websites, it has a fairly large user base. Aside from that, Alibaba promotes practically all of the goods and services on the internet. Despite the fact that the website is a Chinese platform, it provides its greatest services in the English language, allowing millions of individuals all over the globe to access and utilize the website without difficulty. I recommend this site if you are a private seller and you are looking for alternative to eBay.
Decluttr (auction site like ebay)
  This is yet another online shopping website that is associated with the marketing of outdated technology. Indeed, it is an alternative to eBay for Private Sellers.
Among all other online shopping websites, Decluttr provides the quickest and most straightforward approach for selling things.
   Nothing more complicated than entering the barcode number on the Decluttr website or scanning the code with the Decluttr app on your mobile device. On Decluttr, you have the option of being paid via direct deposit or via a PayPal account, whichever you prefer.
Best eBay Alternative Shopping Websites in Europe
This is another section of this article and here you will have access to those eBay alternatives that are located in Europe.
Craigslist (auction site like ebay)
Craigslist, which was established in 1995, is one of the oldest online commerce platforms, having existed long before the internet became ubiquitous. Craigslist is a eBay alternative located in Europe.
On the internet, this shopping platform is well-known to many people. In other words, no matter what product you market on this platform, there will always be buyers. Many individuals choose to use Craigslist since it is completely anonymous when it comes to buying and selling items on the platform. They do not charge anything, not even a listing fee.
Gazelle (auction site like ebay)
Gazelle, like the eBay shopping website, is an online marketplace where you can trade your preferred items to other people. Sell your used gadgets, such as cellphones, computers, tablets and other electrical devices. I will recommend this shopping site if you are searching for eBay alternative located in Europe
When it comes to secondhand phones and laptops, Gazelle will pay top price in the majority of cases if they are in excellent shape. In the event that you intend to sell or buy phones and accessories online, I strongly advise you to use Gazelle.
Walmart Marketplace

(auction site like ebay)
   Walmart Marketplace is without a doubt another eBay competitor website that allows you to sell a variety of different things of your choice to customers. It is a good online shopping site and it is an eBay alternative located in Europe 
  Walmart Marketplace, on the other hand, is not a generic marketplace, but rather a marketplace with a specific niche. As a result, it is quite simple for you to target a specific demographic for your unique products. This shopping website, similar to eBay, is extremely safe to use and has tight restrictions and rules for the sellers who wish to list their products on their website.
Tradesy (auction site like ebay)
   Tradesy is yet another great online shopping website to consider if you are tired of eBay. This platform is outstanding when it comes to fashion things, and it allows you to transact anything that has anything to do with design items.
    Tradesy was founded by DiNunzio Tracy with the goal of converting the clothes market into something that could be accessed from anywhere at any time. In order to make sales through the site, this company has teamed with another well-known online shopping website. Tradesy generally charges a commission of 9 percent on all sales, with a listing fee of $7.50 each listing. It is eBay alternative located in Europe.
Swappa (auction site like ebay)
   Swappa is the final site on our list of the finest alternatives to eBay to consider. This platform is considered to be one of the best online shopping websites because it allows users to buy and sell their items and services. Laptops, phones, accessories, tables, cameras, gadgets, and general electronics are all available on Swappa, as well as other electronic devices.
  Swappa's website allows you to purchase goods in both little and large quantities. With its safe marketing services, Swappa has gained widespread recognition as one of the greatest eBay alternatives. Swappa performs a verification step for each device on the list before approving it.
   A 10 percent commission will be taken from any successful sales made through Swappa whenever you sell a product through the platform. Payments can be made using any online payment option, such as PayPal or other similar services.