Content Writer as a Student in Nigeria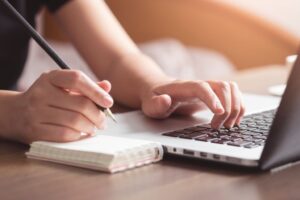 Are you a student looking forward to learning how to become a content writer in Nigeria? If that's true, then this article gets you covered. Here on harfoo.com, we will unveil the step-by-step processes to become a content writer and how you can start earning money from  a content writing job online.
In this modern day, content creation has been one of the most effective marketing tactics employed by top businesses to create relationships with their customers. This is for the fact that a quality content increases brand equity, expands their reputation, and enhances brand recognition beyond the limit.
However, the recent mass shift of businesses to AI content generators gave this content writing job a slim potential to survive. Nevertheless, many online businesses have developed a greater need for skilled content writers as a result of the weaknesses derived from AI content generators. This therefore gave writing jobs to last for years.  
The good news is that it is possible to become a content writer with no prior expertise on how to write content at all. This is precisely what you will learn about in this piece. So kindly stay tuned and read through this article with attention. Wait! Before we set the ball rolling, let's give meanings to some crucial concepts regarding this.
What is a Content Writing Job in Nigeria?
Content writing job is the art of producing quality, helpful, and engaging content, distributing it with a specific audience to accomplish a desired result. In return, you get paid for writing for such firms which may be online or physical.
Content writing is a subset of content marketing that focuses on spreading brand awareness online through the distribution of written contents. The process of content writing involves adequate planning, researching, writing, editing, and publishing online content across designated channels for digital marketing purposes. 
The Meaning of Content Marketing
Content marketing simply refers to the strategy employed by different brands to reach a target audience and achieve predetermined marketing goals. Content marketing comprises not just written content but also video, audio, text, infographics, and any other form of digital media utilized for promotional reasons. Content creation and product marketing have the same overarching goal. The goal is getting readers to take action on their products after reading the content.
Types of Content Writing Jobs for Beginner in Nigeria
Content Writing is a very broad term that encompasses different forms of writing. Being a student willing to learn more about content writing, you should be able to differentiate the types of content writing. Your ability to do this will allow you to identify yourself and know which one to focus on. The major types of content writing jobs are;
Blog Post writing

Creative writing

Technical writing

Legal Writing 

Screenwriting

Business Writing and

Scriptwriting and to mention a few.
You can simply search for more information on these types of content writing here to know the one you can develop your skill on.
Having established this, the goal of this article is to share with the audience the steps to become a content writer. Also, to show students in Nigeria the ways they can start earning money from content writing. 
Steps to Become a Content Writer as a Student in Nigeria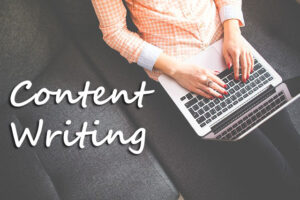 The first step to become a content writer is to understand what content writing is all about. Ability to create valuable and engaging content that will transform your audience from mere readers to your favorite fans. The moment you can do these, then you have what it takes to become a successful content writer.
In what follows, I'll be sharing with you the proven step-by-step process to follow to become a content writer, even if you're just a beginner.
1. Learn Content Writing
To become a content writer, you must be a writer. Don't get me wrong. It's not until you start writing like Wole Soyinka or Chinua Achebe that we can call you a writer. What I'm emphasizing is, you can't become a content writer without knowing how to piece together a few meaningful sentences in a clear and compelling way that someone else will want to read. If you can do this, then count yourself a writer. 
To improve yourself on this, start with the basics. Learn content writing by trying to write long passages that express your ideas. Rome was not built in a day. With constant practice and determination, you will become a seasoned writer too. Also, learn how to make your writing suit the context of your choice. Note that the way you write for a blog will be different from social media posts.  Take topics from websites, blogs, social media handles and try to write similar content.
Although, your learning curve will be easier if you're already an experienced writer. But even at that, you still need to learn the rudiments of writing for the web to gain full mastery of content writing.
On the other hand, if you're completely new to writing, there are some free and paid writing courses you could take that will give you the needed grooming on writing. Visit YouTube often to check ways to write quality content.
2. Find Your Preferred Niche
Another important step you'll take as far as your aspiration to become a content writer is concerned is to find a niche. What is a niche in content writing? A niche is a specialized segment of the market or kind of client you can choose to focus on as a brand. This is similar to the types of content writing explained earlier.
Instead of writing content for just about any kind of business or clients, it's best you find a particular niche, industry or sub niche, get so good in that niche and build a brand around it. For example as a content creator writing for the tech and digital marketing industry, instead of targeting digital marketing clients as a whole, you can focus on a sub niche like search engine optimization (SEO) and then create content for clients in that sub niche.
Doing this makes it easier for you to scale faster and focus. With this strategy, you can become an established content writing authority in your preferred sub niche much more easily. The beginners should however note that it is always best to go for a niche that is not too crowded or find a sub niche with a little or few established experts.
3. Understand SEO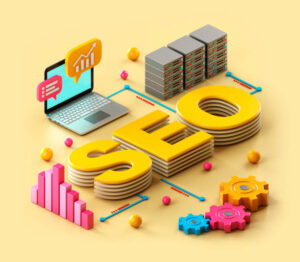 The idea about becoming a content writer is to write content that will attract improved visibility and traffic to your clients. And one of the formidable tools for this strategy is to have a good grasp of search engine optimization also known as SEO.
Of course, knowledge of Search Engine Optimization may not be stated as a must have for some content writing jobs but your grasp of SEO will determine if your services as a content writer is providing the needed returns on investment or not.
Without further Ado, to become a content writer, you must have a fair knowledge of search engine optimization if you really want to create an impressive result for your clients. Thankfully, there are courses and tutorials on SEO that you can read up to improve your knowledge and even get certified as the case may be.
4. Be Good at Research
You can't become a content writer without having decent research skills or being able to carry out the very basic search for ideas that can lead to conclusive deductions. No, it's not hard. With just a decent grasp on how to look for and find valuable and relevant information that will benefit your target audience and how to use them in your posts in the most succinct and engaging ways, then you're good to go.
Also beyond content writing, your research skills will be needed when it comes to getting to know, identify and work with audiences to find out content that works for them and how to present it the way they want. It'll also work for you when you plan to find brands to work with as clients and how to communicate the messages that matter to these audiences. 
Again, in most cases you'll be given different topics which you have little knowledge of. It is expected of you to carry out adequate research on such a topic in order to make your client proud of you.
5. Write Content
To become a content writer, you have to write actual content. There are no two ways about it. You can start with using your social media handles or other popular platforms to build an audience. Learn the rudiments of writing and get instant feedback while building your profile.
A lot of established content writers started out this way. And what this does for you is that it builds your muscle throughout the learning phase of your content writing endeavor. And you can also use this period to build a brand.
Note that while using these other platforms to test your writing skills, be sure you're clear about what you want as a content writer and follow through with that consistently. Do not fall into the trap of writing just about anything unless you're writing as a hobby.
6. Create a Portfolio
Now that you've started writing actual content, it's time to create a portfolio and get your name out there as the content writer that you are. But be sure you put the first things first. You can start with the following;
Brand Name: Starting with choosing a brand, be sure you choose a brand name that easily resonates with you and your target clients. It must be unique enough to capture what you do as a content writer.
Profile Bio: Use a short and compelling profile bio that will describe what you do and how you do it across all online platforms. Ditto for your pictures and shared images, everything should project your brand and brand goals.
7. Promote your Brand
To become a content writer, people really need to know that you're an actual content writer. So, there's a need to promote your brand and get the word out there. Starting with your social media, identify the top social media platforms with a large number of your target audience, build a presence on that platform and get to promote your brand. Use strategic strategic social media marketing to share valuable and engaging content with your audience on those platforms.
Create a website where you'll display services, portfolio and everything that has to do with your brand at a one stop spot. This has a way of improving your credibility with clients. Ask for feedback from clients when you work with them. And also, do not forget to display your reviews, nice feedback and testimonials as social proofs, whenever you have them. Also, do not fail to use storytelling as part of your marketing strategy to showcase your work and promote your brand.
How Students Can Make Money from Content Writing
Being a student gives you an edge to write long articles at your leisure time. If you're the kind that have writing talent, then it's time to monetize your skill and start earning money from content writing. The following are the ways to make money from writing articles.
1. Create a Blog
Your idea of content writing shouldn't be a waste but a great source of making a huge amount of money. One of the ways you can achieve this is through blogging.  All you need to do is to create a blog and center it on a specific topic that you know people used to search for on google. With the aid of your writing skill, you'd just start publishing different posts on the blog till you have massive visitors in your blog. 
One of the amazing ways to make money from blogging is through Adsense. It is a form of ads showing on different blogs by Google if such a blog is qualified to serve ads. You can simply apply for this too as soon as you meet up with the requirements.
Another way to make money from blogging is through sponsored posts. This is a form of post given to you by a third party to post on your blog. In return, you'll charge them the amount of such a post in your blog.
Another popular way is through affiliate marketing which is done by selling the products of popular firms like Amazon on your blog. In return, you gain a certain percentage for getting a product sold in your blog.
2. Freelancing
This is one of the major ways people are earning from content writing. Freelancing is an online based working platform where freelancers are hired by different individuals or companies.
With freelancing, you can take your writing skill to the next level and start making millions from it. All you need to do is to sign up on different freelancing platforms as a content writer (be specific about your niche) and source for clients that need your skill. Apply for the job and get hired if you're worthy. 
One of the most thrilling aspects of this is that all works are strictly online and no pressure. Being a Nigerian student, you will be earning your money in dollars and this will be a great benefit when exchanged to Naira.
Upwork, Fiverr and the like are the popular freelancing platforms you can sign up for. But I would advise you to source for other platforms that are yet to be flooded because the two mentioned platforms are highly competitive.
3. Selling of Articles
The other way you can earn money from content writing is through selling your article. There are different bloggers out there who are too lazy to write blog posts. They tend to look at blog posts to buy and post on their own blog.
The problem with this is that sourcing for these types of bloggers may be difficult. However, there are different platforms online where you can simply post your articles and will be accessible to different buyers. With this, you can sell as many articles you've written.
4. Self Publish Books
If you have a great talent in writing, another avenue for you to earn money from it is through book publishing. Don't get it wrong. This is a very simple one to do. You don't have to pay for any publisher before getting your book published.
We are in a world where almost everything can be done on the internet. There are some platforms online such as Amazon where you can simply publish your written books for free and have your price tagged. This has its ways. All you have to do is to look for the most selling books on the platform, do the perfect review of that book, create a cover page and start selling it as yours. Another way is to write a complete book that has potential of selling fast, publish it on the platform and star making sales 
Conclusion
From the foregoing, it can be inferred that, it's very possible to become a successful content writer in Nigeria or anywhere, if you use the strategies I just shared with you. A lot of content writers started with zero experience. So, if you're ready, you can always get started while building your brand into a content powerhouse. I want you to note that what makes you a good and seasoned content writer is your creativity and your ability to think well. Always give your best in whatever you write because it speaks so much about you being a writer.
Finally, the starting of a content writing journey may not be as easy as explained in this article. However, the starting is always the hardest. All the successful writers who are earning hundreds of dollars everyday have stories to tell.
Give it a chance, chase your dream and make count of all opportunities that come your way. In all ways to succeed, you need determination, commitment, hardworking and patience. Thanks for reading this.