How To Keep Your Desk Clean ; 10 Tips.
The eagerness to work on your desk arises from the joy that appears to you when you see the neatness of your working desk. The tidiness of your desk most of the time contributes to your high interest in working and, at the same time, improves the workforce. It is therefore advisable that you take cognizance of the neatness and cleanliness of your desk.
This article will vividly explain ten different methods for keeping your desk clean and, at the end, provide you with the best strategy to keep your files on the desk; dusting of your desk; system arrangement; stationeries, to name a few.
11 Tips to Make Your Desk Clean and Neat Always
1.) Arrange and Organize Your Desk
The first and best strategy to make your desk look tidy and neat is the proper arrangement of your desk. This tip lays emphasis on proper ordering of all the materials placed on the desk. The desk should be kept groomed at all times. Being a gamer requires many gamer pads and or a working desk, which makes it easier to arrange. It is advisable that you keep your manuals, gaming tip books, folders, and probably notebooks inside the desk drawers. This will go a long way in making your desk crisp and tidy.
2) Create a Digital File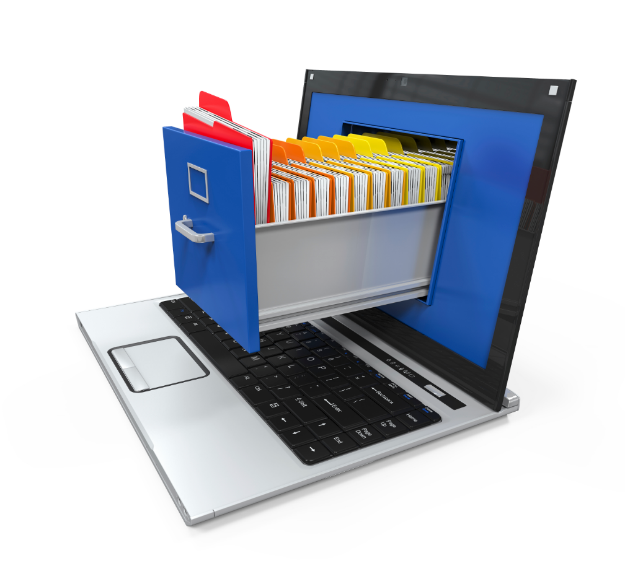 When you place too many files on your desk, it consumes more space than any other material on the desk. It therefore limits the space and makes the desk look clumsy. The best way to make your desk spacious enough is by creating a digital folder where you can send and store your files instead of using paper to make notes. You can put some crucial documents on your system in order to make your desk spacious and work-friendly. Doing so will make your files more secure and confidential than putting them on your desk to create unnecessary dirt.
3.) Make a Waste Bin for Garbage
There are times when some used papers that needed to be thrown into the dust bin are still fine on the desk due to how far you are from where they are meant to be disposed of. The best you can therefore do is to create your own small waste bin (i.e., a small basket) very close to your desk. This will aid in the immediate disposal of waste rather than keeping it in the desk and causing unnecessary dirt.
4.) Keep your monitor and keyboard clean at all times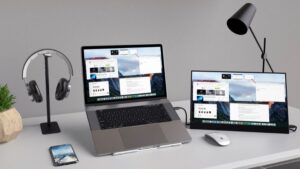 Your computer systems host dust every moment, especially the keyboard and the monitor. Some clothes are made especially for cleaning the screens and keyboards, so they can be used to remove dust without endangering the system. If the system keyboard is dusty, it may cause pressing issues later on. Thorough cleaning of keyboards should always be done regularly because it also contributes to the tidiness of the desk.
5.) Construct a Monitor Stand
When the monitor is placed in a specific location on the desk, it takes up more space and attracts dust because it prevents the user from seeing the screen clearly.A better way to reduce the space consumed on the desk is to mount your monitor on a stand in order to create more space on the desk and to reduce the dust on the monitor screen.
6.) Cable Management
It irks sometimes when you have a glance at your desk filled with many cables, disorganizing the arrangement of your desk. Apart from the fact that cables disorganize the desk, they may easily cut when they're not properly put in place, especially the gaming and computer cables. Therefore, the cables are meant not to be on the desk because it creates more clutter and gives you less room for work. Alternatively, they can be kept somewhere underneath the system just to make your desk more spacious.
7) Create a Pleasant Atmosphere at Your Desk
It is a general belief that a nice atmosphere enhances a good mood for work. You can create a nice, beautiful desk which will always boost your morale for work. You can do this by placing small plants somewhere nearby or on your desk. Be very sure that the said plants are quite small in order not to occupy much space on the desk. The spider and succulent plants are thought to be the best for any working or gaming desk.
8.) Make a Special Place for Your Writing Supplies
It is important that you reach out to your writing materials throughout your time at your desk. Instead of keeping your pens and papers in your desk drawer, it is advisable you have a particular holder which can house your pens, pencils, staplers, and the likes at once. This will help maintain an organized desk and also aid in quick access to your writing materials.
9.) Provide a Headset Support Stand
Some office chores and games require a headset. So, if the headset is part of your own work or gaming, it's necessary to provide the headset with a special stand to place it when it's not in use. This will also create more space on the desk and also allow it to be seen and have quick access to it whenever the need arises.
10.) Labeling
Sometimes, when you work with a lot of papers on your desk, it might be difficult to identify everything, and this might delay the quick process of your work and may also disorganize your desk when searching for such a paper or file. The best thing you can do is label all your folders and drawers for quick access to your files. You may add artistic labels to your folders or drawers, which will allow you to locate things quickly and easily.
11.) Group items that are similar together
The last tip that can make your desk organized and clean is when you keep your materials that are similar in one place. Your writing materials can be in one place, folders in another place, and game cases together in a special place. This will aid in knowing if you're in need of restocking something or such.