Obviously, there are different reasons why a single mom should look for ways to make money herself either online or offline. I can understand the heavyweight of responsibility on your shoulder at the moment. So, if you are a single mother searching for side hustles to make extra cash online, you can simply read through this post in order to alleviate your current situation. This is applicable to any single mom in South Africa and any  country from other parts of the world.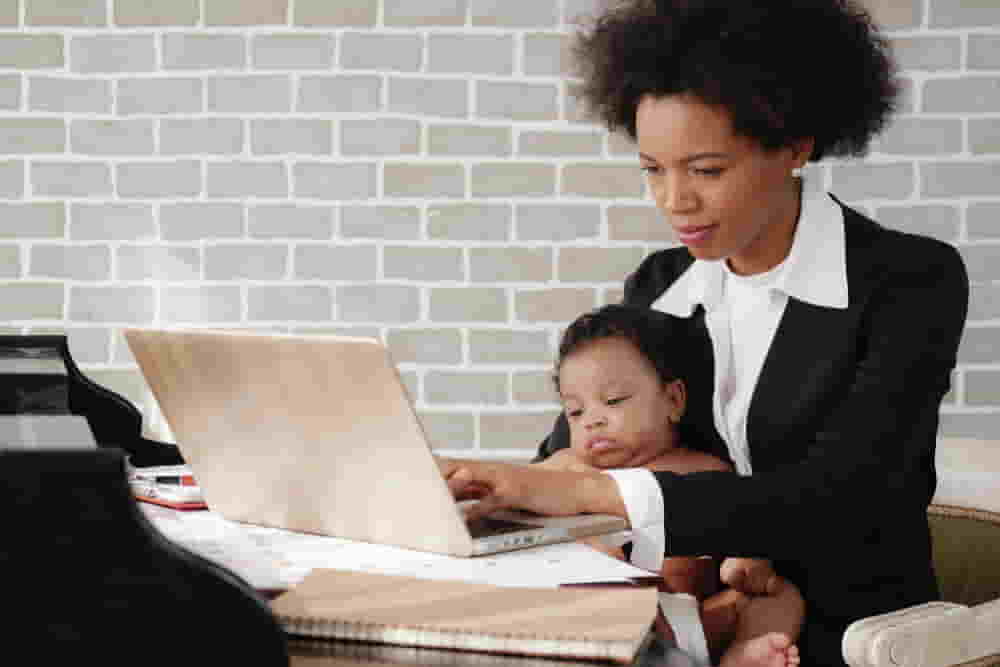 How to Make Money as a Single Mom in South Africa
Without any doubt, there are many hustles for single moms to earn enough income for yourself in this country. But for the purpose of this article on harfoo.com, I'll walk you through some of the online and offline proven methods to survive financially as a single in South Africa.
1. Babysitting
This is an offline method of earning money by a single mother or any lady who sees this as a hobby in South Africa. Making money from babysitting means earning income by caring for and supervising children while their parents or guardians are away.
Babysitters typically receive payment by the hour or a flat rate for their services in South Africa. The amount of money earned may vary depending on factors such as location, experience, and the number of children being cared for. Babysitting can be a great way to earn extra income, especially for teenagers, students, or people looking for part-time work.
 If you have experience taking care of children, consider offering your services as a babysitter. You can advertise on social media or websites like Care.com.
2. Freelancing
This remains one of the most popular online methods of earning cool cash by divorcees or widows in South Africa. Freelancing refers to working on a project basis rather than being employed by a company. It means that a person offers their skills and services to clients who need them, and they charge for their work. 
Making money from freelancing means that one is earning income by working independently and providing a service to those who need it. It allows individuals to be their own boss, set their own schedule, and work on projects that interest them.
Freelancers may work with multiple clients at the same time, providing diverse services such as writing, graphic design, programming, consulting, and more. The amount of money a freelancer can make depends on their skills, experience, reputation, and the demand for their services.
So, if you are a single mother who has a particular skill like content writing, designing, or coding, you can consider offering your services as a freelancer. Websites like Upwork, Fiverr, and Freelancer.com can help you find clients.
3. Online surveys
Online surveys are another stress-free method to earn money at the comfort of your room. Making money from online surveys refers to earning cash, gift cards, or rewards by participating in research studies that are conducted through online questionnaires. 
Companies and businesses use online surveys to gather feedback from their target audience about their products, services, customer experiences, and more. Online survey sites recruit participants who are willing to take surveys and offer rewards for their time and opinions. 
The rewards usually depend on the length and complexity of the survey, and participants can earn anywhere from a few cents to a few dollars per survey. Making money from online surveys requires patience, consistency, and the willingness to complete multiple surveys over a period of time to accumulate earnings.
You can earn money by taking online surveys on websites like Swagbucks, Survey Junkie, and InboxDollars. 
4. Selling items online
Making money from selling items online simply refers to the act of selling goods or products on the internet through various e-commerce platforms or your website. The products can be anything from clothes, electronics, home appliances, beauty products, and more.
 By listing your products online, you can reach a vast audience around the world who are interested in buying your products. You can set a price for your products, and once someone purchases them, you receive payment, which is then deposited into your account. This method of selling is a great way to start a business and generate income as a single mom in South Africa.
For instance, you can sell items you no longer need on websites like eBay, Amazon, or Facebook Marketplace.
5. Renting out of room apartment
Renting out a room refers to the act of offering a private space in your home or property for another person to stay temporarily. This can be done through various platforms such as Airbnb, VRBO, or Craigslist.
The process usually involves setting up a rental agreement, setting a rental fee, and providing basic amenities to the guest.
Making money through renting out a room can be a lucrative source of income for single moms, homeowners or individuals who have extra space available. It can provide a steady stream of income, especially during peak tourist seasons or when there is a significant local event. Additionally, it can also help offset the cost of owning or renting a home by providing an additional source of income.
However, it is important to note that renting out a room also comes with responsibilities such as ensuring the safety and security of your guests, maintaining the cleanliness of the space, and complying with local laws and regulations regarding short-term rentals.
Overall, making money from renting out a room can be a viable option for those looking to earn extra income. But it requires proper planning, execution, and responsibility to ensure a safe and satisfactory experience for both the host and the guest.
6. Starting a home-based business
Starting a home-based business means that you are setting up a business that operates from your home. It could be a small or large scale, and it could be in any industry, such as online retail, consulting, catering, or other services. Making money from a home-based business involves generating revenue through selling products or services to customers.
Some benefits of starting a home-based business include
 Low overhead costs: Since you are using your home space as your office, you won't have to worry about high office rent, utility bills, and other operational expenses.
 Flexible work schedule: You can set your own hours and work when it suits you best. This is ideal for people who want to juggle their business with other commitments, such as caring for children or elderly parents.
Tax benefits: Running a home-based business may allow you to claim deductions on some of your home-related expenses, such as mortgage interest, utilities, and property taxes.
However, making money from a home-based business might be challenging. You need to put in the effort, time, and resources to ensure your business runs successfully. You also need to develop a sustainable business plan and market your products or services effectively to attract customers. Overall, starting a home-based business can be an excellent way to make money, but it requires dedication, hard work, and disciplined management skills.
7. Part-time jobs
Making money from part-time jobs means earning income by working for a certain number of hours per week or month. Part-time jobs are usually flexible, allowing individuals to work while still attending to other things, pursuing other interests, or fulfilling family obligations. 
The pay rate for part-time jobs varies depending on the industry and the level of expertise required. Part-time jobs can also offer benefits such as health insurance, retirement plans, and paid time off. Part-time jobs can be a great way to supplement income especially for single moms in South Africa.
In a nutshell, you can simply look for part-time jobs that offer flexible schedules, such as working at a retail store or restaurant.
Conclusion
From the article above, it is observed that there are many ways a single mom in South Africa can earn money using both online and offline methods.
However, earning money through the processes discussed above may not be as easy as explained. To be successful in any of those methods, you have to be determined, dedicated and committed to any path you choose. If you have any questions regarding ways to go about any of the explanations above, kindly drop a comment below. Thanks for reading this piece.