You're probably searching for top online surveys apps or sites to make money in South Africa. If that's true, then search no more because this article gives answers to all your questions. If you want to be making money with no stress, then you should consider reading this piece as we share the best surveys that will pay you real money.
What are Online Surveys?
Online surveys have become popular in recent times. It is one of the ways in which popular companies are used to receive feedback from their users. The old form of data collection which "paper questionnaires" seem to work no more as we are already in the digital age. Most of these organizations tend to reach out to their customers through online surveys in order to collect data from them and to make improvements in their operations. 
Taking surveys as a customer is not a free task. Your opinion, your time and mobile data wasted during the course are eventually rewarded after each survey is carried out. With this, people now enjoy sitting at home making dollars from survey apps everyday. Amazing! Your earning from it is determined by the quality of the survey questions you choose to answer as the payment varies most times. Being a resident of South Africa, you can also join the league of those earning daily from surveys.
Controversies on Whether Online Survey is a Scam
Basically, the majority of people have come to conclusions that most of the online survey apps are scams. Why? This is because most of them end up not being real and take one's time on the surveys for granted.
In fact, there are some survey apps whereby you would always be interrupted whenever you're about to complete each survey. In the end, you will be paid nothing. There are also some that will never allow you to withdraw your money even after completing as many surveys as possible. Some would get you blocked or logged out after making some dollars on the platform.
All these reasons make many people believe that a real survey app doesn't exist and it's only the gullibles that would waste time on it. No doubt, I've once been a victim of fake surveys too and my assumption was not different.
However, with thorough research on the real ones I came through tons of survey apps that reward you with real money after completing your survey. No doubt, online surveys are real if you come across real apps to carry out the task. Here, I'll share with you those real apps you can use to make money from surveys.
Things to know before carrying out survey
Before you make assumptions that surveys are not real, you have to get some things right. Your inability to understand those things would always give the wrong impression about online survey apps. Here are some of the crucial things you should have at the back of your mind if you want to start a survey and earn real money from it.
1. Survey App
Here is where most people get things wrong. The app you are using for the survey is very important in determining whether you would be paid at the end. For example, some apps are meant to be used in Europe and not meant for any country in Africa. Going after using those app to answer questions in surveys will lead to waste of time because you would not even be allowed to carry out any survey due to your geographical location which is different from the target customers. So, it is expected that you know whether such an app works in your country.
2. Duration of the Survey
This has to do with time you will spend on a specific survey and it's usually written on each. Some require you to complete the survey within 1 minute while some allow more than that. Note that, if you should exceed the slated time on a particular survey, you will automatically be disqualified. This is the reason why some people get disqualified for a moment to complete the questions. So, you have to know the duration expected of you in taking a survey. 
3. Withdraw Threshold
This has to do with the minimum or maximum withdrawal you can make on the app survey you are using. This varies from one app to another and it is important you know this too. Some apps' minimum withdrawal is $5, some is $10 and some is $25 depending on the app you are using.
Knowing this will put your mind at rest to reach the minimum amount required before trying to withdraw your funds.
How to Make Money from Surveys
You can make money from different ways in surveys. The following are some of them.
1. Answer Survey Questions
This is the primary way of earning from surveys and it is the best task that has the highest payment. Your job is to choose a specific survey, give your opinion on such a question and you'll be rewarded in return.
Some reward as low as $2 for your opinion on a survey while some pay less than that. The payment quality depends on the app you're using and the firm that partners with the app.
2. Referral
Another way you can earn money from surveys is through referral. This is done when you share your link with your friends and they download the app through your link. You'll be rewarded for this and it will be added to you account. Most people fasten their withdrawal through referral.
3. Login Bonus
This varies from app to app. Some apps reward you with little cents for daily login while some do not.
Who are those that can make money from surveys?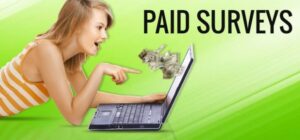 Survey is actually not meant for a particular set of people. Is available for all and sundry. However, some surveys have their target audience which are determined by your age (old or young), your sex (male or female), your social class, lifestyle, and so on. Generally surveys can be carried by the following set of people.
1. Students
 Surveys can be carried out by students who are eager to  be financially independent on campus. Majority of students are fond of this because the task can always be done at their leisure times.  They tend to do this to support their financial stability on campus and earn a good living. Meanwhile, some surveys are practically not meant to be answered by the students.
2. Working Class
70% of online surveys have their target audience to be working class. This is because they have lots of experience regarding different products from those organizations. They are financially independent and most times make decisions for their family.
So, if you're a working class person looking forward to making extra cash apart from your monthly salary, then you can consider making surveys an option.
3. Single Mother
This is another set of people who can enjoy making money from taking surveys. Being a single mother, you can use this avenue to make passive income to support your little family. Your free time can be spent wisely by giving our opinion on products you once used and in return make money from it.
4. Aged
Aged and retired people can also engage in answering survey questions. You have the whole time to rest but you can still take part in this task to keep yourself busy and to earn in return.
Tools Needed in Carrying out Survey
Survey does not need much from you to get started. That is why it is considered by most people as the best option to make money online. The required tools to start survey are;
1. Smartphone
This is your primary tool to get started. So far you already have your personal mobile phone already, there's no need seeking to get a special phone to do the task again. 
2. Laptop
This is an option for smartphones. If you don't enjoy using your phone to answer questions, then you can also make use of your laptop. Just download the app on your laptop and proceed with the task.
3. Internet Connection
This is the fuel that will keep your car going. You have to be connected to a strong internet in order to get through each survey you tend to answer. The reason why most people get disqualified is because of the weak internet connection which may be interrupted at any time.
4. Free Time
This is also one of the most important things. Before you go ahead to start a survey, try to analyze your availability if you won't be disturbed by other tasks ahead of you. Starting a task without completing it will lead to partial payment of the task.
Best Online Surveys Apps to Make Money in South Africa
Having established the foregoings, I'll now share with you some real apps you can use in carrying out surveys in South Africa and other parts of the world.
1. Zap Surveys App
Here is one of the highest paying online surveys. It is a reliable survey app you can simply download on your mobile phone and start earning real money from it. Choosing this app as the first one is owing to different recommendations from its users and my personal experience using it.
Zap Survey partners with some of the biggest online survey companies and that's why they give out the highest paying surveys to their users. Some of their market research partners include Peanut Lab, inBrain, Theorem Reach and so on.
The minimum withdrawal on Zap App is $25. However, there are different ways you can earn from this survey app. Apart from taking surveys, you can also earn from your daily login. You can earn from referral and when you make $5 through answering surveys.
One of the most fascinating things about the Zap app is that you can withdraw your money to different accounts such as PayPal and you can convert it to gift cards.
2. PrizeRebel
Of the many GPT apps, PrizeRebel is among my favorites, and I'm pleased to report that South Africans may also find decent possibilities on the platform.
As there are several opportunities to make money on this site, we refer to it as a GPT site. Paid surveys are just one way to make money here; other activities like streaming movies, playing games, inviting friends, and discovering promo codes are all that contribute to your earnings.
There's a fantastic bonus system where you gain additional benefits the more you use it. A further strength of PrizeRebel in South Africa is the variety of withdrawal options available to winners. Both PayPal and a variety of gift cards are available as payment options. Soon as you reach $5 in earnings, you will be able to cash out.
3. MegaWallet
This is another best app among the survey apps out there. Spending your time on this platform will always end up in earnings. With a minimum of $5 in your account, you can simply withdraw with that. 
MegaWallet also rewards for referring your friends to the app. Although, this app has no daily login rewards but it offers the best and quality surveys with highest money. One thing amazing about MegaWallet is that, even if you are unable to complete a survey, you'll still be paid the amount that will almost equate the expected one if finished. This app is available for both android and apple smartphones.
4. Surveoo
If you're looking for a reliable and simple paid survey site and app  in South Africa, go no further than Surveoo. Experts claim that the highest earners may take home as much as ZAR 3,700 every month with the right combination of talent and hard work.
Be paid in cash or select from a variety of gift cards. There is no uniform minimum payoff amount across all available payout strategies.
5. Univox
As Univox Community is always on the lookout for new members, it's a perfect choice if you happen to be in South Africa.
You can simply make money by completing paid surveys, entering free contests, and referring others to the site. There are plenty of survey opportunities available, and the compensation is above average in comparison to what you'd get at other sites or apps.
The minimum payment for new members is $25, but regular participation will earn you higher privileges. You'll start reaping more and more advantages, including a reduction in the minimum payment amount to $10. Just for signing up and completing your profile, we'll give you $2. Amazing!
6. Surveytime
If you're in South Africa and are interested in doing surveys, I'd recommend checking out Surveytime. It's really straightforward and quick to use. There are a lot of online surveys to choose from, and each one pays $1, so it's definitely something to look into. Every survey pays off via PayPal instantly.
Note that there is a profile survey included in the application process. In order to get entry to the members-only area and participate in the available surveys, this form must be completed.
7. Triaba
Triaba conducts surveys in South Africa independently. The interface is straightforward yet the number of accessible surveys is few. Taking surveys is the only method to get money here, and you shouldn't anticipate a lot of them.
But, membership does not need any effort on your part because you will be notified through email whenever there is a new survey available. You may verify your identity without creating a user account. As a result, it may still be beneficial to join as a supplementary site.
The minimum amount you may withdraw is 75 South African Rand. Money can be sent using PayPal or GCode (virtual gift card code).
8. Timebucks
You can sign up for Timebucks from any nation around the world. It's possible to make money in South Africa in a number of different ways with this online platform.
You may make money in a variety of ways which include taking surveys, streaming movies, reading online material, mining cryptocurrencies, sharing information on social media, using free cash roll, and more. Although most of the Timebucks ways to make money don't pay much, they don't take long either.
It offers unique opportunities for making money, and the best part is that there are always options open to you. Bitcoin,  AirTM, Payeer, Bank Transfer (through Transferwise), and Neteller are all viable payment options on Timebucks.
9. Surveyeah
With its dedicated South African panel, Surveyeah is among the easiest survey sites to enroll in that country. Although it is not the panel with the most surveys, it is still worthwhile to join as an additional site because of how little time and work it requires.
After signing up, all you have to do is check your email for survey invites every once in a while. Once you've accumulated $10 in earnings, you can request payment via PayPal or get Amazon gift cards.
10. TGM Panel
For South Africans, TGM Panel is a great option because it offers a dedicated survey panel where you have a higher chance of qualifying for surveys that interest you.
After you sign up, you'll be sent to a page where you may choose from a selection of available surveys. Be more focused on survey invitation emails as they become available. After you have accumulated $10 in earnings, you may request payment by PayPal or gift cards.
11. Superpay.me
As everyone in the world may join Superpay.me, South Africans are welcome to do so as well. There are many survey options available every day, in addition to additional ways to earn money through ad clicking, video watching, and offer completion.
It's also got a wonderful cash prize competition every three months. Locating the surveys you are eligible for on Superpay.me may take some time, and the site might be a little overwhelming at first. Yet, if you can be patient, there are many possibilities.
Superpay.me is one of the quickest rewarding survey sites in South Africa because of the incredibly low payout threshold—you may request payment as soon as you've earned just $1.
Payout options include the popular e-wallets PayPal and Skrill, as well as the more obscure but potentially lucrative cryptocurrency Bitcoin.
Conclusion
Making money from survey apps and sites in South Africa is not always easy. It needs patience and dedication. Your ability to earn hundreds of dollars from Surveys depends on how serious you take it and the time you devote to it.
Note that some of the apps and sites shared above are not available for South Africa demography. Therefore you can simply use your VPN to access some of them or drop a comment below if you encounter any problem in carrying out a survey on any of them.