Iron Man 2 PPSSPP Game for Android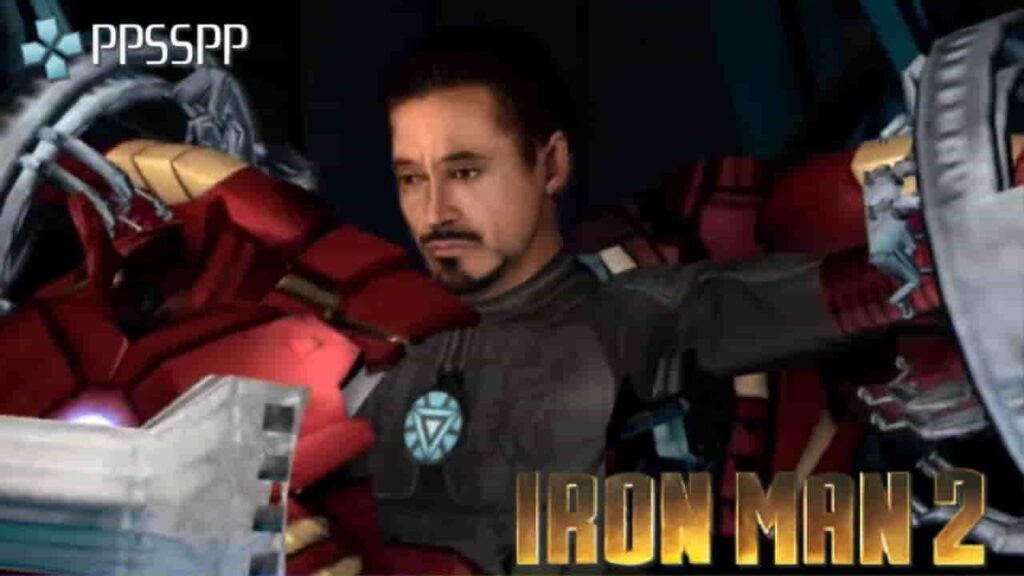 Suit up superhero fans! I have come with another exciting gaming experience to share with you today – Iron Man 2 PPSSPP for Android! If you have been yearning to play this superhero game on your Android device, worry no more! I will share with you, everything you need to know about the game. So keep calm as I walk you through.
In this post, I have provided a step-by-step guide on how to download and install this action-packed Iron Man game on your Android smartphone or tablet using a PSP emulator. No only this, you will also have access to the thrilling features of the game, device requirements, and how to export save data.
Towards the mid of this article, you will find a working link you can use to download load Iron Man 2 PPSSPP ISO highly compressed file for your device. So, stay tuned and read till the end.
Overview of Iron Man 2 for PPSSPP
Based on the 2010 superhero film of the same name, Iron Man 2 is a third person shooter video game published by Sega in 2010. It follows the adventures of billionaire Tony Stark aka Iron Man as he battles against enemies and villains from the movie.
The game features an original story written by the movie's scriptwriter which happens parallel to the film's plot. You get to suit up as Iron Man and use his blasters, rockets and repulsor rays to take down bad guys like Whiplash and a whole lot more.
With its exhilarating flight sequences, destructible environments and diverse gameplay, Iron Man 2 delivers an immersive superhero experience on PSP. And now thanks to the PPSSPP emulator app, you can enjoy the same thrilling Iron Man action right on your Android device!
Excited to learn how? Read this post as I share details about gameplay, system requirements, download links and steps to install Iron Man 2 highly compressed ISO on your smartphone using PPSSPP. Let's blast off!
Thrilling Features and Modes
Let's first look at some of the cool features and gameplay elements of Iron Man 2 that make it such an entertaining superhero game:
Play as Iron Man wearing one of his awesome suits from the movie
Use hand repulsors, lasers, missiles and other attacks
Fight villains like Whiplash, Hammer drones etc.
Destructible environments adding to realism
Epic boss battles against giant enemies
Thrilling flight sequences and maneuvers
Different gameplay modes like Story, Challenges, Time Trial
Awesome movie-inspired locations like Monaco, Stark Expo etc.
Unlock improved armors and abilities as you progress
Spectacular visuals and effects
With so much variety and non-stop action, Iron Man 2 offers a complete superhero experience that you can now enjoy on mobile thanks to PPSSPP!
Device Requirements
Iron Man 2 is a graphics intensive PSP game ported from PS3/Xbox 360. For optimal performance on Android, your device should meet these hardware requirements:
Android 5.1 or higher
2GB RAM or more
Powerful processor like Snapdragon 625 or higher
Good GPU like Adreno 506 or equivalent
At least 2GB free storage space
Fast internet for smooth download and install
As long as your device has the above specs, the game will run smoothly at full fps without lags or frame drops. A phone with higher RAM like 3GB+ is ideal for best results.
Screenshots of the Gameplay
Below are some of the live screenshots of the game. You can also check out to know what you are going to experience in the game.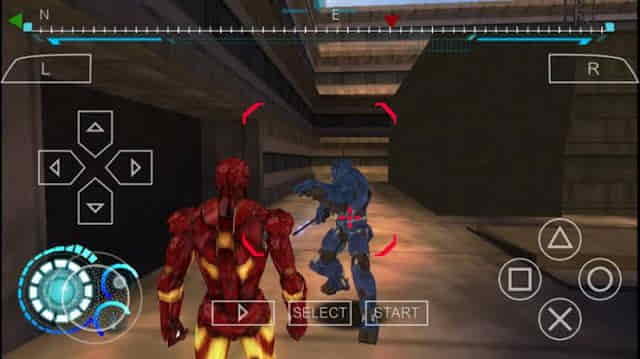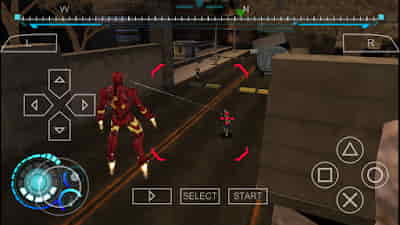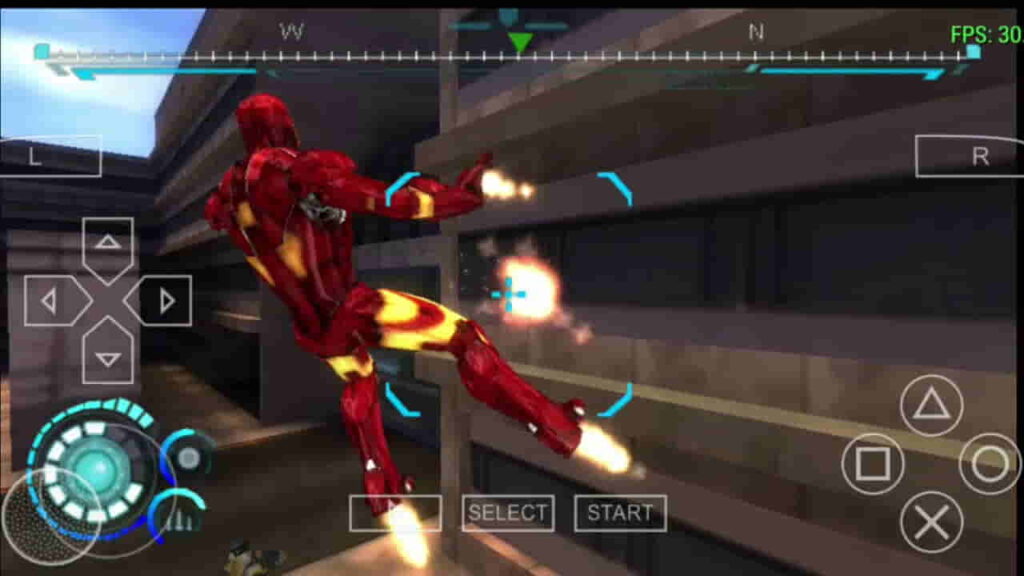 Download the ISO Compressed File and PPSSPP Emulator
I hope you have gone through the features and device requirements for the game. So, the next step is to download the compressed version of the game and emulator to run it. Below are the most important files you'll need to download before having the game run on your phone/tablet:
Iron Man 2 ISO file
PPSSPP emulator app
I'm happy  to inform you that the two files links are provided here  and you can get them for free without being redirected to another site.
Download Iron Man 2 ISO file for PPSSPP Highly Compressed
The first file here is the ISO file 7z of the game.  Actually, the original game has a big file but I have compressed the one uploaded here. Now, you can download Iron Man 2 ISO zip file 7z on mediafire in just little MB. If you are willing to get the game now, use the link below to download compressed version of Iron Man 2 ISO PPSSPP ROM free English version from mediafire.
Download the PPSSPP Emulator for Android
Having got the ISO file from mediafire, the next thing is to run the game on your phone smoothly. So, you have to install this popular PPSSPP emulator app on your device to be able to play the game. I would like to recommend the latest Gold version for best compatibility. You can download the PPSSPP emulator for your Android through this link.
How to Install Iron Man 2 PPSSPP on Android
Follow these simple steps to get Iron Man 2 up and running on your Android smartphone or tablet:
First install PPSSPP if you don't already have it. Just download the apk from the link above and install it.
Now download the Iron Man 2 ISO file on your device from the link provided earlier.
Go to your phone's internal storage and locate the downloaded ISO file.
Long press the file and select Extract. This will extract the ISO into a folder.
Launch the PPSSPP app. Go to settings and set Frame Skipping to 1 for smooth performance.
Return to the main screen. Tap on 'Load Game' and locate the extracted ISO folder.
Select the 'Iron Man 2' ISO file. The game will begin loading.
Once loaded, tap on 'New Game' to start playing!
And that's it! Just follow these steps carefully and you'll be able to install and play Iron Man 2 on your Android device using the PPSSPP app. Have fun saving the world as Iron Man!
Importing Saves and Textures
As you progress through the game, you can use Save States in PPSSPP to instantly save your progress instead of manual in-game saves.
You can also import actual PSP save files and textures to unlock stuff by copying the files to the respective PPSSPP folders on your device.
Locate where PPSSPP stores the Saves, Textures, etc. and simply copy files there for enhancing your gameplay experience.
Conclusion
From high-flying jet combat to taking down epic villains, Iron Man 2 brings all the action-packed fun of being a superhero right onto your Android smartphone and tablet. Thanks to the power of PPSSPP emulator, you can enjoy this entertaining PSP game on mobile.
With the download links and step-by-step instructions provided in this post, you can easily install Iron Man 2 ISO on your Android device. Just make sure it meets the minimum system requirements for smooth performance.
So go ahead, put on the high-tech Iron Man suit and get ready for an immersive action experience! Stop Whiplash and other villains from carrying out their devious plans. The fate of the world lies in your hands, superhero!
I hope this guide was useful in letting you experience Iron Man 2 on the go. Share your thoughts about playing this entertaining superhero game on your mobile device. Let me know if you have any other queries!
5 FAQs about Iron Man 2 PPSSPP
Here are some common queries about running Iron Man 2 on Android using PPSSPP:
Q1. How to fix lag, crashes and freezing issues?
A. Adjust graphics configurations in PPSSPP like resolution, frameskip etc. Also ensure your device meets the minimum requirements.
Q2. Does Iron Man 2 work on Snapdragon 625 and 4GB RAM?
A. Yes, it should work smoothly on Snapdragon 625 with 4GB RAM. Just use optimal PPSSPP settings.
Q3. Can I play Iron Man 2 on 2GB RAM device?
A. You can try but 4GB RAM is recommended for best performance. Lower RAM may cause lag.
Q4. Does Iron Man 2 PPSSPP support controllers?
A. Yes, you can connect Bluetooth gamepads in PPSSPP for better control on touchscreens.
Q5. Is the Iron Man 2 ISO available for free download?
A. No, you can only get it legally from official sources. Illegal download is not advised.
Let me know if you have any other questions!