Justice League Heroes PPSSPP: JLH PSP Game Available for Android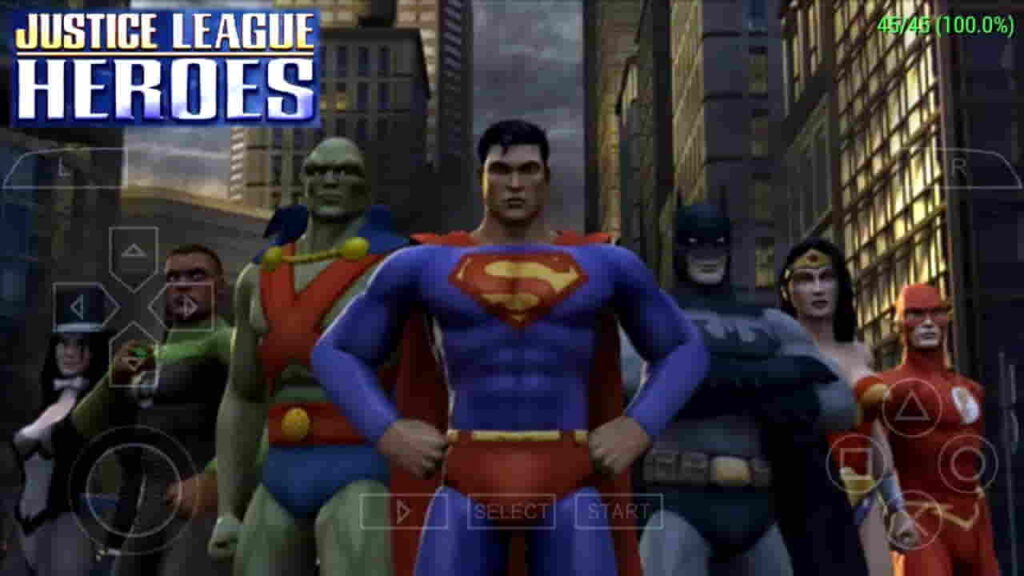 Hey guys! If you're a fan of DC's iconic superheroes, then you need to check out Justice League Heroes PPSSPP. This action-packed video game lets you play as Superman, Batman, Wonder Woman and other Justice League members as they battle evil. I'm pleased to show you how you can download and install Justice League Heroes PPSSPP highly compressed file game on your Android device!
In this post, I'll provide a complete guide on how to download the JLH PSP highly compressed game on your Android smartphone or tablet. We'll go over the game's awesome features, system requirements, download and installation steps, and tips to import save data and textures – so you can start playing as Justice League Heroes right away!
So what are we waiting for? Let's dive right in and explore everything you need to know to download this game for your Android!
Overview of Justice League Heroes Gameplay and Features
Justice League Heroes was originally released in 2006 for PlayStation Portable (PSP). Thanks to PPSSPP emulators, Android users can now also enjoy this classic superhero game. With its multiplayer gameplay, engaging story mode and ability to switch between various DC characters, it's easy to see why Justice League Heroes remains a fan-favorite.
In another words, Justice League Heroes is an action RPG game that allows 1 or 2 players to control members of the Justice League. The gameplay is similar to the X-Men Legends series. Here are some key features that make this a standout PSP title:
15 playable DC characters including Batman, Superman, Wonder Woman, The Flash and more
Co-op multiplayer mode for 2 players via Ad Hoc wireless connectivity
Engaging story mode with voice acting from top DC voice talent
Level up your superheroes and unlock new abilities as you progress
Fight through different environments like cities, laboratories, deserts and more
Defeat familiar DC supervillains like Lex Luthor, Joker, Cheetah and Circe
Unlock bonus costumes, concept art and other collectibles
If you love DC's cast of superheroes, Justice League Heroes offers an amazing fan experience. The gameplay has a great blend of action-packed combat and tactical elements that keep you engaged. It's perfect for DC fans looking for an awesome PSP title to enjoy on the go.
Device Requirements to Run JLH PSP on Android
Before downloading Justice League Heroes, make sure your Android device meets the minimum requirements:
Android 4.4 KitKat or higher
1GB RAM
Powerful processor like Snapdragon 625 or better
Approximately 1.2GB of free storage space
PPSSPP app or other PSP emulator installed
As long as your phone meets these specs, you should be able to play Justice League Heroes smoothly. The game is not too demanding so many modern budget and mid-range Android phones can handle it.
I also highly recommend using a gamepad controller for the best experience. Touch screen controls are workable but external controllers make gameplay much more fun.
Screenshots of the Gameplay
Below are some of the live screenshots of the game. You can also check out to know what you are going to experience in the game.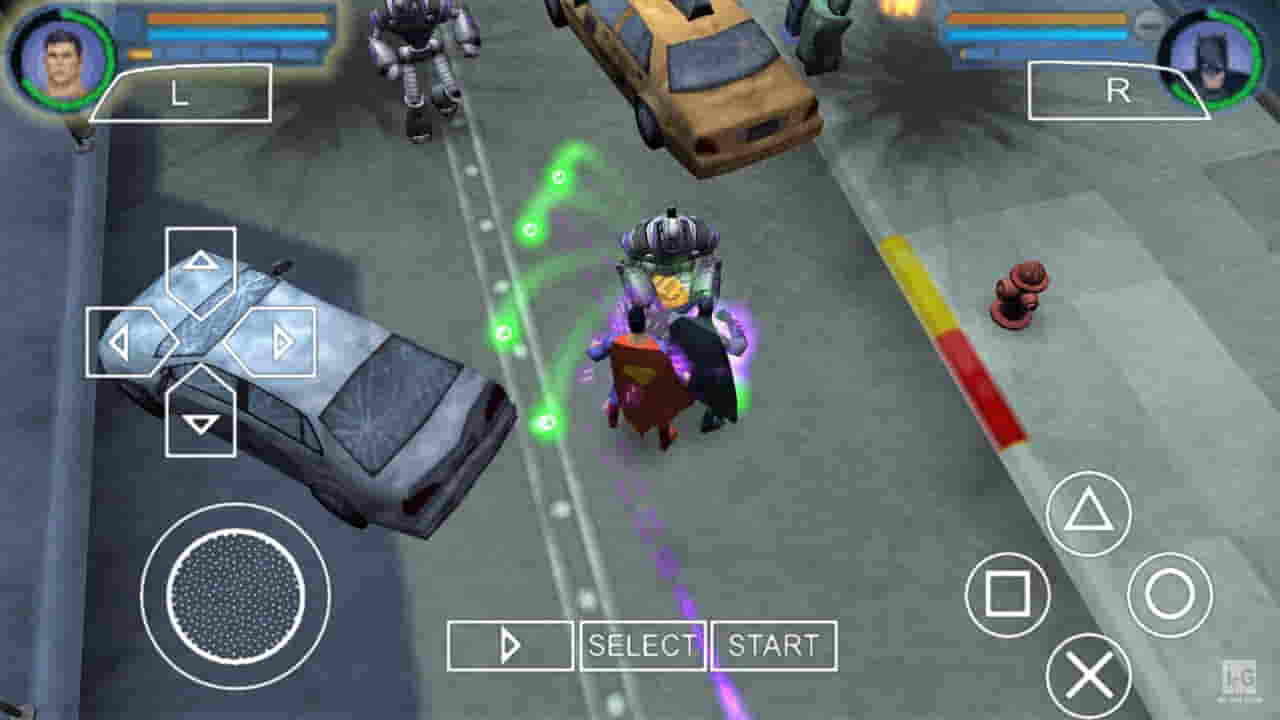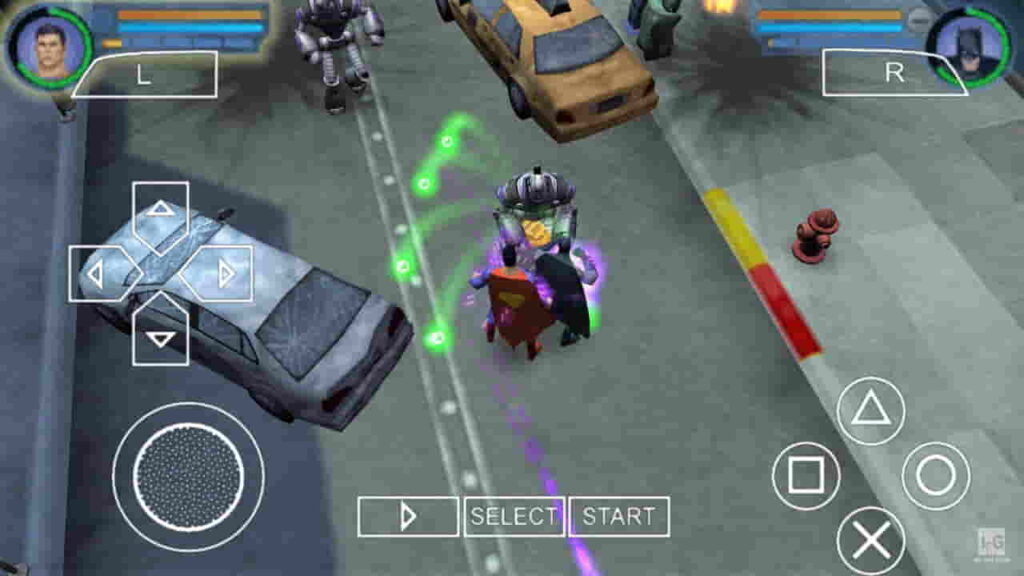 Download the ISO File and PPSSPP Emulator
Have you got to know the special features and device requirements for the game? So, the next step is to download the compressed version of the game and emulator. Below are the most important files you'll need to download before having the game run on your phone/tablet:
The JLH ISO file
PPSSPP emulator app
I'm pleased to inform you that the two files links are provided here  and you can get them for free without being redirected to another site.
Download Justice League Heroes ISO Highly Compressed File
The first file here is the ISO file of the game.  Actually, the original game file is around 1.3GB but I've compressed it and you can now download the ISO zip file for your Android with easy and little MB.
If you are willing to get the game now, use the link below to download the highly compressed JLH ISO PPSSPP ROM free English version from mediafire.
Download the PPSSPP Emulator for Android
When you are done with the downloading process above, the next file to download is the PPSSPP emulator which will allow you play the game on your Android device. So, you have to install popular emulator app on your device to be able to play the game. I recommend the latest Gold version for best compatibility. You can download the PPSSPP emulator for your Android through this link.
Step-By-Step Guide to Install JLH on Android
Follow these steps to get Justice League Heroes running smoothly on your Android device:
Step 1: Download a PPSSPP emulator app if you don't already have one. You can simply use the link provided above.
Step 2: From link provided above, download the Justice League Heroes ISO file.
Step 3: Move the downloaded ISO file to a folder on your Android device. I recommend creating a folder called "PSP Games" or "PPSSPP" to keep things organized.
Step 4: Launch your PPSSPP app. Go to the load game section and navigate to the folder containing your ISO files.
Step 5: Select the Justice League Heroes ISO file. The game should start loading up.
Step 6: In the emulator settings, you can configure controls, graphics, audio and other options. I suggest increasing the resolution for better graphics.
Step 7: Once configured, you can dive right into Justice League Heroes! Make sure to tap the on-screen controls or use your paired gamepad to control your character.
That's all there is to it! With these simple steps, you can experience Justice League Heroes just like you would on an actual PSP system. The PPSSPP emulator does a fantastic job running PSP games smoothly on Android.
How to Import Save Data for Uninterrupted Play
As with any long RPG, you'll want to avoid losing progress in Justice League Heroes. PPSSPP lets you seamlessly transfer save data so you can pick up right where you left off.
Here's what to do:
Locate your saved game data file for Justice League Heroes.
Copy or move it to the PPSSPP save data folder on your device's internal storage. The path is usually Android/data/org.ppsspp.ppsspp/files/PSP/SAVESTATE.
Launch Justice League Heroes in PPSSPP. Load your game and it will now have the saved progress rather than starting over!
This simple process makes it easy to continue your Justice League Heroes adventure even when switching devices. No starting the story over again!
Conclusion
Justice League Heroes delivers an authentic PSP experience right on your Android phone or tablet. With its great roster of playable DC superheroes, fun co-op multiplayer and engaging RPG story mode, it's easy to get hooked on this game for hours.
Thanks to the power of PPSSPP emulation, anyone can now enjoy Justice League Heroes on the go. Just make sure to download the ISO file from a safe ROM site like harfoo.com. Then load it up in your favorite PSP emulator app. With the right settings, you can play this action-packed title at smooth frame rates.
So gather your fellow Justice League fans and dive into this classic superhero adventure. Lex Luthor and other sinister forces are waiting to be defeated. It's time to assemble the ultimate DC team and help save the day!
Thanks for reading! Let me know in the comments if you have any other questions about playing Justice League Heroes on Android. And don't forget to share this post with fellow superhero game fans!
Frequently Asked Questions (FAQ)
Here are some common questions about downloading Justice League Heroes for Android:
Q: Is this game playable offline or does it require an internet connection?
A: Justice League Heroes is fully playable offline. No internet connection is required once you've downloaded the ISO file.
Q: Can I play Justice League Heroes on Android for free or is it paid?
A: Justice League Heroes is available for free download if you get the ISO file from the right sites. There are no additional costs or in-app purchases.
Q: Does Justice League Heroes support multiplayer gameplay on Android?
A: Yes, the local co-op mode with 2 players works perfectly in the Android port when using PPSSPP. You'll need two compatible controllers though.
Q: Is Justice League Heroes available on iOS or just Android?
A: Currently the game is only available on Android by using a PPSSPP emulator. There is no iOS port. An iOS device can run PPSSPP but performance may be slower.
Q: Is playing Justice League Heroes on Android illegal or is it legal?
A: Downloading ISO files of commercial games you don't already own is technically illegal. However, emulation itself is considered a legal gray area in many regions.