Check out top First Person Shooter PSP Games for Android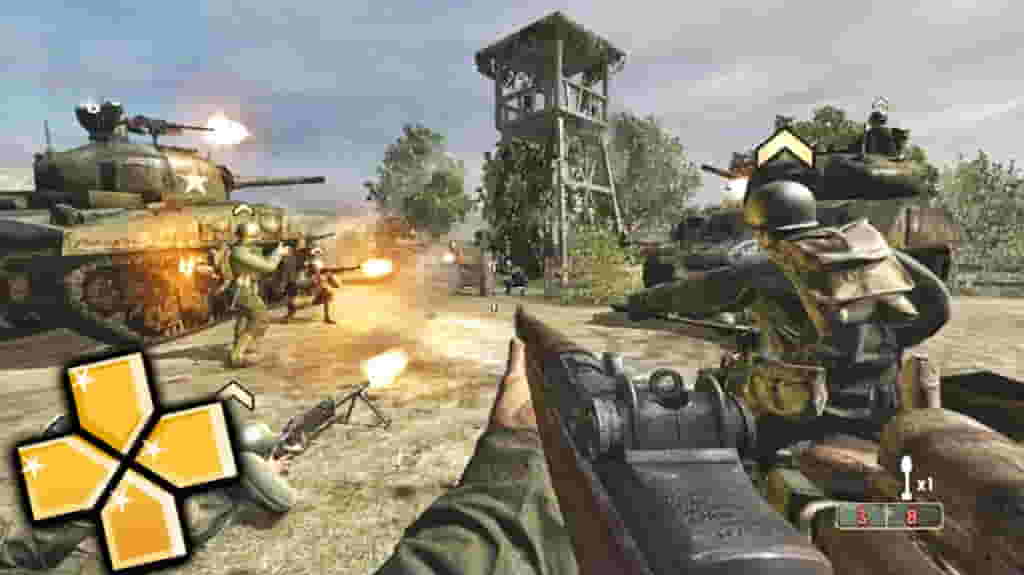 Hello PSP game lover! Do you care to know the best First Person Shooter (FPS) PPSSPP games for Android? Well, I have come with most thrilling list of FPS games you can download and play right on your phone or tablet. So stay connected as I unveil the best shooter games you can play with PPSSPP emulator on your Android smartphones.
Do note that all the games that make to this selection are not randomly picked. In fact, the list is based on my experience paying those games and also for the recommendations from best gamers out there. If you wanna play PSP FPS games on your phone, then read till the end.
This iconic game makes our first shooter game among others. Call of Duty: Roads to Victory is a WWII first-person shooter developed by Amaze Entertainment. It was one of the launch titles for the PSP system. In this game, you take on the role of an American soldier fighting in various WWII battles against the Germans and Japanese.
Some of the key features include:
High quality visuals that push the PSP's capabilities. Detailed character models and environments.
Smooth 60FPS gameplay translates well to Android devices using PPSSPP.
Single player campaign mode with 14 missions across the European and Pacific theatres.
Various weapons like the Thompson submachine gun, M1 Garand rifles, and the reliable Colt 1911 pistol.
Local multiplayer mode for up to 6 players using WiFi ad-hoc.
This classic Call of Duty title runs very well on Android with PPSSPP. The gameplay and visuals hold up surprisingly well for a launch PSP title. It's a great FPS experience on mobile.
If you wanna have the real experience of best shooter game on PSP, then try out this game today. Medal of Honor: Heroes is another excellent WWII FPS developed by Team Fusion. It allows you to battle across various parts of the European theatre from the beaches of Normandy to the streets of Berlin.
Key features:
Precise dual analog controls work great on touchscreens. Aim and move easily.
Impressive visuals and effects like snow, rain, and explosions.
24 levels across 6 missions to battle through.
Variety of authentic WWII weapons like the Thompson, BAR, MP40, and the Springfield rifle.
Local multiplayer mode for up to 4 players.
Heroes makes great use of the PSP hardware to deliver an engaging old school style WWII shooter. It runs at a smooth frame rate in PPSSPP across a wide range of Android devices.
Medal of Honor: Heroes 2
Here is another most paly FPS game out there. In fact, it is must for you download and play on your device. Medal of Honor: Heroes 2 is the sequel to Heroes set in the North African theatre of WWII. It adds some new features and improvements while retaining the core gameplay.
Key features:
32 levels across 8 missions in North Africa.
New weapons like the M1 Garand and Walther P38 pistol.
Improved enemy AI for more challenge.
Multiplayer mode now supports up to 6 players online.
More vehicles like tanks and motorbikes.
The PPSSPP emulator can comfortably run Heroes 2. The graphics and frame rate hold up nicely for a great portable FPS experience.
Call of Duty: Black Ops Zombies
Among the COD series, Black Ops Zombies is among the best to be play on Android. While not a full COD game, Black Ops Zombies offers a fun FPS co-op survival experience on your mobile device. It includes the full classic Zombies mode playable locally or online.
Key details:
Kino Der Toten and Ascension Zombie maps included.
4 player online co-op play supported.
Packed with details and easter eggs from the console versions.
Persistent player progression and unlockables.
Good performance in PPSSPP across low and high end devices.
Fans of Zombies mode will feel right at home with this portable version. The maps retain the creepy atmosphere and frantic action suitable for quick pick up and play sessions.
Brothers in Arms: D-Day
I must tell you that you have not had the best of shooting experience if you have not tried out Brothers in Arms: D-Day. The game is from Gearbox Software offers a more tactical WWII FPS experience on PPSSPP. It focuses on squad based combat and coordinated team strategy.
Thrilling Features
Realistic tactical squad gameplay focused on strategy.
Command and maneuver 2 separate squads.
Large epic battles with impressive effects.
Authentic weaponry like the MP-40, Sten, and BAR.
Solid performance and visuals in the emulator.
For tactical shooter fans, this is a strong choice that runs well and scales to the mobile experience nicely. Outwit the enemy using coordinated squad strikes.
SOCOM: U.S. Navy SEALs Tactical Strike
Here is another perfect shooting game out there. SOCOM on PSP was designed to be a portable team based tactical military shooter. It includes a 12 mission single player campaign and various multiplayer modes.
Key features:
3D graphics engine tailored to the PSP's capabilities.
5 different multiplayer modes across 14 maps.
Single player includes 12 missions across 4 regions.
Utilize cover and tactical squad commands.
Indonesian jungle, Burmese rainforest, and other exotic locales.
This tactical shooter holds up impressively well on Android via emulation. The visuals, controls, and performance make it very playable today.
Medal of Honor: Warfighter
Medal of Honor returned to modern combat with Warfighter. It focuses on elite Tier 1 operators hunting down terrorists around the globe.
Why it stands out:
Contemporary military setting and weaponry.
Unlock new weapons and attachments as you progress.
Good graphics and large detailed environments.
Online multiplayer support.
Fast paced "boots on the ground" action.
Warfighter offers a modern take compared to the WWII shooters above. The gameplay translates well to mobile with smooth performance in PPSSPP.
Half-Minute Hero: Yggdra Unison
This isn't that popular but I don't know why. It is one of the amazing FPS PSP game one would ever recommend. For something completely different, Half-Minute Hero turns the FPS genre into a simplified hyper-fast experience. It also mixes in light RPG elements.
What makes it unique:
Extremely fast paced and streamlined FPS gameplay.
Entertaining retro pixellated graphics.
Single screen bite sized levels take 30 seconds or less.
Levelling system lets you develop your heroic abilities. -items to collect grant different weapons and powers.
Don't let the old school graphics fool you. Half-Minute Hero is a highly polished pick up and play FPS experience condensed into tiny 30 second levels. It's great for quick game sessions.
Duke Nukem arrives on PSP with his signature bravado intact. It adapts the core Duke Nukem 3D gameplay into a portable 3rd person shooter.
Features:
Signature Duke humor, one-liners, and quotes.
20 levels across 4 episodes.
Iconic weaponry like Shotguns, Rippers, and Shrink Rays.
Variety of weird alien enemies.
Smooth performance and controls in PPSSPP.
While not quite as polished as the original, Critical Mass is a fun dose of Duke for your mobile device thanks to PPSSPP.
Quake III Arena
The fast paced arena shooter Quake III gets a PSP port that holds up remarkably well on Android via PPSSPP emulation. It includes the core modes like free for all, deathmatch, and Capture the Flag.
Why it's fun:
Fast paced first person shooter action.
Smooth controls work great on mobile.
Local multiplayer or play online.
Iconic Quake III maps and arenas.
Cool weaponry like the lightning and rail guns.
Quake III shows the PSP could hold its own for fast paced 3D FPS gameplay. This port plays great on Android devices today using PPSSPP.
World at War: Zombies
Here we have another quality Call of Duty Zombies port. It includes Shi No Numa and Der Riese maps with 4 player online co-op.
Key details:
Features Shi No Numa and Der Riese Zombie maps.
Local ad-hoc multiplayer or 4 player online.
Unlockable Zombie Verruckt bonus map.
Persistent player progression and level ups.
Mystery box and weapon upgrades.
Zombies fans will love having two classic maps in portable form. It captures the intense frantic co-op survival gameplay smoothly on Android via PPSSPP.
Conclusion
The PPSSPP emulator opens up the robust PSP library for enjoying great first person shooters on your Android device. As we've seen, there are many impressive titles spanning across WWII, military tactical, and sci-fi settings.
Whether you want a strong single player campaign like Medal of Honor, co-op Zombies survival, or competitive online multiplayer, the PSP has you covered. These games run well on a variety of Android phones and tablets using PPSSPP. Just download the ISO files and you are good to go.
Hopefully this post has highlighted some of the best FPS games on the platform. The PSP was surprisingly capable of delivering quality first person shooter experiences on the go. Thanks to PPSSPP, we can still enjoy them on mobile years later.