Best PPSSPP Sports Games for Android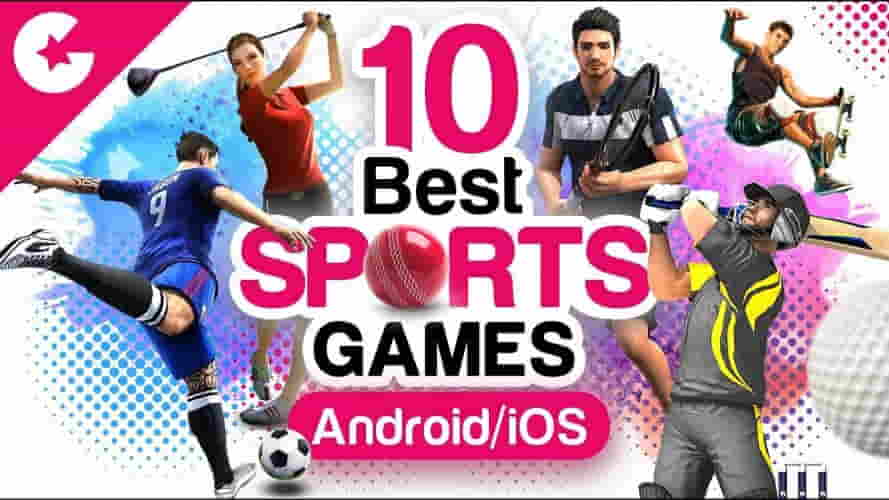 Hey sport game lover! It is a pleasure to have you. Do you wish to check for the best PSP sport games you can play on Android? The great news is that this article will offer you the best list of the most played sport games available for PPSSPP. You should stay connected and read this content till the end.
Do know that our selection here isn't a random one. I made a comprehensive research before coming out with all these game. My personal experience playing most of the games and recommendations from gamers are the bases for choosing the games here. So, do know that I am going to give you the best you are looking for.
Basically, the PSP had a great selection of sports titles during its lifespan. Thanks to the PPSSPP emulator, we can now enjoy these excellent handheld sports games on our Android devices. In this post, I'll highlight some of the best PSP sports games that are worth playing on your phone or tablet.
FIFA Soccer
If I would recommend any soccer PSP game, this game would also come first. Most PSP gamers out there cannot joke with this game genre. The FIFA series from EA Sports found a nice portable home on PSP. The games capture the core 11 vs 11 soccer gameplay along with leagues, tournaments, and modes fans expect.
Key features:
Licensed players and clubs for major leagues like the EPL.
Smooth, responsive controls work great on touchscreens.
Various gameplay modes like exhibitions, leagues, and Be A Pro career.
Local ad hoc multiplayer for 1v1 matches with friends.
Games like FIFA 07 and FIFA 14 perform well in PPSSPP.
For soccer fans, the PSP FIFA games deliver a full featured handheld experience you can now enjoy on the go with Android.
Here is another best PPSSPP sport games you should check out today. Sega's tennis series made a stellar debut on PSP with Virtua Tennis 3. It brings fast paced tennis action featuring a huge roster of pro players and mini-games galore.
Thrilling features:
15 playable pros like Federer, Sharapova, and more.
5 game modes: Exhibition, World Tour, Court Games and more.
Local and online multiplayer support.
Create a player with customizable gear and attributes.
Responsive controls make hitting shots feel great.
Virtua Tennis 3 is arguably the best handheld tennis game ever. It's easy to pick up and play, but hard to master.
For American football fans, the Madden franchise also made its way to Sony's handheld. Madden brings the full 11 on 11 gridiron gameplay complete with all the NFL teams and stars.
Key gameplay elements:
Official teams, rosters, and players from the NFL.
Core modes like Play Now, Franchise, and Be A Pro career.
Smooth running and passing gameplay adapted for handheld.
Local multiplayer matches over ad hoc WiFi.
Great performance in PPSSPP across a range of devices.
Madden NFL on PSP allows you to bring the full football experience anywhere. It's a must play for NFL fans.
WWE SmackDown vs. Raw
The WWE wrestling series enjoyed numerous successful outings on the PSP catering to wrestling fans. The games capture the wrestling spectacle, personality, and variety of match types fans expect.
Notable features:
Huge roster of over 50 wrestlers from WWE superstars.
Variety of match types including Cell, Cage, TLC, and more.
Create your own customizable wrestler.
Perform wrestler signature moves and finishers.
Local multiplayer matches with friends.
For wrestling enthusiasts, the PSP WWE games deliver all the over the top action complete with personality and customization options to enjoy on the go.
Tony Hawk's Pro Skater series defined arcade skateboarding games. Tony Hawk's Underground 2 brings the same addictive skating gameplay with open world exploration and absurd tricks.
Why it's fun:
Massive open world levels to skate and explore.
Create-A-Skater and Create-A-Trick systems.
Hundreds of tricks to master across different skaters.
Variety of modes for quick sessions or longer play.
Local multiplayer support.
The PSP Tony Hawk games are perfect for quick skating action on the go. THUG 2 is one of the best in the series.
SSX On Tour brings the extreme snowboarding action to the PSP complete with stylish riders, crazy tricks, and varied courses. It retains the arcade style gameplay the series is known for.
Key features:
Carve down mountains performing chained tricks.
Tons of gear and rider customization options.
Compete in events and prove yourself the best.
Local multiplayer races and battles.
Signature SSX style and visuals.
For over the top snowboarding thrills, SSX On Tour delivers a fun portable experience for your Android device via PPSSPP.
Burnout Legends compiles tracks and gameplay modes from previous Burnout titles into one definitive PSP package. It provides intense speed and crashes in equal measure.
Why it stands out:
Blazing fast arcade racing action.
Huge variety of modes including circuit, pursuit, and crash.
Jaw-dropping crashes and pileups.
Customize your cars for looks and performance.
Ad hoc multiplayer lets you race friends locally.
For arcade racing fans, Burnout Legends is easily one of the best racers available on PSP thanks to its breakneck speed and addictive crash mode.
EA's golf series found a nice portable home on the PSP catering to fans looking to play 18 holes on the go. It offers realistic golf mechanics along with a huge roster of pro players and courses.
Notable elements:
Realistic golf simulation gameplay.
15 playable PGA pros including Tiger himself.
A dozen accurately modeled real world courses.
Career mode builds up skills and earns rewards.
Local multiplayer matches for competitive putt putt.
Tiger Woods PGA Tour delivers a full featured golf experience in the palm of your hand, perfect for golf fans on Android.
This fighting game stars rap artists and hip hop stars battling it out with outrageous street fighting moves. The sequel improves upon the original with more robust gameplay.
What makes it great:
Over 40 real hip hop artists as playable fighters.
Variety of brutal street fighting moves and combos.
1v1 matches, interactive environments, and weapons.
Create your own hip hop battler complete with attitude.
Excellent port of the console versions.
Def Jam Fight For NY brings chaotic street brawling action in a smooth package perfect for mobile play via PPSSPP.
Conclusion
As you can see, the PSP was home to a ton of excellent sports titles across football, soccer, racing, extreme sports, wrestling, boxing, and more. Thanks to PPSSPP, these great handheld games from the past can run beautifully on our modern phones and tablets.
Whether you're a football fanatic or into extreme snowboarding, the PSP sports catalogue delivers some of the best portable games for any sport. The emulator makes them easily playable on Android devices. So give some of these classic PSP sports titles a shot if you miss the golden age of handheld sports games!